IOTA Due Diligence Report | DRC Community
All Credits to DRC金融科技资讯 | Original Post – https://goo.gl/pTc5Mw
IOTA, is a novel and revolutionary layer fortransaction settlement and data transfer, it is designed for the Internet ofThings (IoT).  In addition to IoT, it canalso meet the needs of any person wishing to transfer data or value. As anintermediary for the transaction and transfer of value, IOTA supports M2M(machine-to-machine) and P2P (people-to-people) transactions, as well aspayment between M2P (machine and people).
IOTA is unique in that:
Unlike the blockchain technologies behind Bitcoin and Ethereum, IOTA'splatform is called the Tangle, a novel distributed ledger technology;
It charges no service fee for transactions;
It was recognized by the Berlin Foundation Supervisory Board on November 3,2017 as Germany's first legitimate crypto currency-based foundation, achievingan important milestone in the history of this country's fund sector;
IOTA's technical reforms and innovations attract widespread attention aswell as some concerns over its technical security;
It's digital asset is ranked as the 6th largest globally by market cap.
DRC community initiated a one-week comprehensive andin-depth due diligence investigation into IOTA, which covered five aspects:Project overview, Project team, Business plan, Technical solution, and Economicmechanism.  The result of which unveiled atotal grade of 80.4, a project rating of AA, and a project risk rating of LowRisk Level (Low).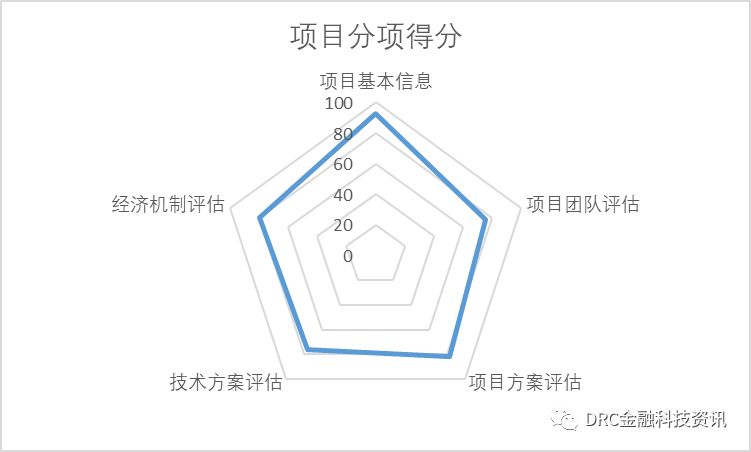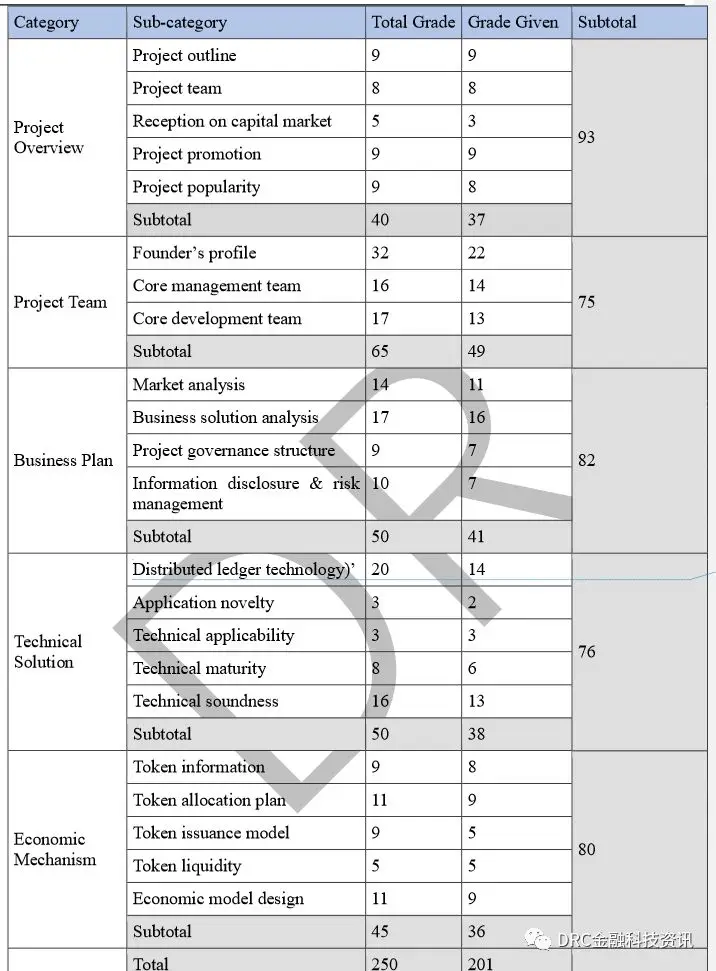 I  Project Overview
IOTA, is a novel and revolutionary layer for transaction settlement and data transfer, it is designed for the Internet of Things (IoT). Based on a novel distributed ledger technology called the Tangle which, with it's unique technical features enable:
Zero service fee for transactions
The more transactions, the faster the network
New types of micro-transaction business models
Machines to become their own economic agents
The Tangle has a data structure patterned on the Directed Acyclic Graph (DAG).

In contrast to the blockchain, DAG has no blocks or chains, featuring an optimum structure for transaction models of IoT.  Due to the limited size of blocks and the contention in ledger-updating, blockchain technology takes longer to confirm a transaction and charges a high service fee.  Such high costs hinder blockchain's large-scale commercial application in IoT, which has numerous micro transactions.  The Tangle-based IOTA project offers a fitting solution to this problem.
IOTA technology is particularly suitable for use in the fields of Smart Cities and Infrastructure, Smart Grids, Supply Chain, Transport, and Mobile Applications, etc.  Additionally, IOTA can serve as the pillar for all forms of P2P transaction settlements, e.g. internet payments or even remittances.
The IOTA project is currently managed by the IOTA Foundation registered in Germany. IOTA has a large community and attracts a huge amount of followers and discussions on social media, including many blog sites, Slack, Twitter, Medium, Reddit, and Facebook, among others.  IOTA China (it's community in China), also has lots of high quality discussions on the IOTA project.
Within the community, IOTA receives equal number of likes and dislikes, mainly due to doubts over it's technical solution on the part of community technical personnel, including the college research group.   Occasional disagreements occur between R&D personnel and the project's founder.  These reveal a partial degree of immaturity for IOTA's technical solutions and a need for further improvement.
IOTA completed its crowd sale on Bitcointalk in 2015. Unlike conventional ICO, this crowd sale was open to participation by anyone;
The official website of IOTA is: https://IOTA.org;

II  Project Team
Assessment of the IOTA project team highlighted the following findings:
IOTA has four founding members, David Sønstebø IOTA founder and co-founders Sergey Ivancheglo known as CFB, (come-from-beyond), Dominik Schiener, and Prof. Serguei Popov (Mthcl).  Respectively they have years of professional experience in the blockchain and IoT, having  made profound achievements in these areas, such as CFB inventing 'Proof of Stake'.
Currently, the founder is in charge of project management, development, and promotion full-time.  He also concurrently serves at important positions in other companies and projects.
The project team consists of about 50 personnel, of whom about 20 are developers and around 10 are researchers, accounting for half of this team. Most developers have a master's degree, and researchers mostly have a doctorates degree.  Of these R&D personnel, around 10 have development experience in blockchain project.
The project founder and core developers, all with development experiences in one or two blockchain projects, have strong technical competence.  As a prominent expert on Tangle, Serguei Popov has published many research papers on this technology.  Sergey Ivancheglo is the key developer for the NXT project.
There are many community developers involved in the IOTA project and Tangle-based third-party applications.  A large number of third-party applications are currently under development.

III  Business Plan
Market Prospect: Tangle is exempt from the low efficiency problem inherent in blockchain design, and offers a new method for reaching consensus in the decentralized P2P system. Transfer of payment on IOTA is free from service fees, which enables micro payments, however small they are.  Designed for IoT, IOTA allows payments for resources, services, and permits via machines.  It can be applied to Smart Cities and Infrastructure, Smart Grids, Supply chain, etc.   Real world IOTA-based projects and experiments are tracked and shown at http://forum.iota.org/t/publicly-announced-iota-real-world-projects-tracker/1820.
Competing Projects:  As a brand-new bottom layer protocol for DLT, IOTA has no blocks. While there are also other IoT application projects based on Ethereum and Graphene, IOTA sees no strong competitor in this respect to performance and transaction costs.
Business Plan Completeness: The business solution is not detailed enough in IOTA's whitepaper due to its preoccupation with technology.  For example, it fails to clearly specify the pain spots and needs of the IoT sector, the pattern and rules for IOTA's action, and the solutions to the various pain spots, etc.
Business Plan Superiority: The fee-less IOTA effectively combines the sending and verifying parties in a transaction, and operates faster as users increase, giving its business plan a profound superiority.  Statistics in early September revealed that data transferred on the IOTA network were worth over US$ 4 billion.  However, the IOTA performance is still not up to expectation at present, and needs the Coordinator to facilitate consensus building. More exploration is thus needed in the future.
Business Plan Feasibility: The formal network has been launched and cooperation on Telecom Billing, Micro Payment, and Smart Solution is already underway with related companies.
Project Planning: The project has a well-planned and well-scheduled roadmap, and its development and promotion have been on the right track.  In 2018, it will build the smart contract layer. Commercially, IOTA is having or pursuing cooperation with over 10 companies.
Project Management: The governance structure is well-defined and well-designed, with clear division of responsibility and assignment of responsible personnel, as shown in https://blog.iota.org/iota-foundation-fb61937c9a7e.  However, the governance charter is in Germany only, with no English version available.  EY, the world-renowned advisory firm, assisted the IOTA project during the whole process of it's Foundation application.
Project Information Disclosure & Risk Management: Information is disclosed frequently on its blog at https://blog.iota.org; the Foundation was established on October 24, 2017 and will be operated, managed and audited in accordance with its charters and related laws of Germany.  All tokens under this project have already been issued.  IOTA Foundation funds  are donations and subject to multi-signature based management by the Foundation itself.

IV  Technical Solutions
Assessment of Blockchain Technology: IOTA is a public chain ledger with its core technology based on the Tangle and the ternary numeral system.  Tangle as a novel DLT has many use cases and has already been applied in a large array of live projects.
IOTA adopts the MCMC algorithm (Markov Chain Monte Carlo) tip selection consensus mechanism (- random walk of particles towards the tips).  Each  node must verify another two transactions on the network before initiating a new one.  This involves all the nodes in the consensus, and by way of the Tangle forms a DAG based transaction verification structure to finally confirm a transaction.  A weighting mechanism is in place to avoid balance attack.  In case of a possible such attack, the Tangle element with a higher weight will carry on, while the other one will be discarded.  Unconfirmed transactions can be reattached to Tangle.
The adoption of ternary numeral system has been validated as means to lower power consumption for IoT processors. The Tangle shifts the verification of customer information to nodes and light wallets. To enable a new transaction, verification is needed for only two previous transactions, instead of verification for all information on the chain in blockchain DLT.  Transaction efficiency is thus greatly enhanced.
Instead of the Elliptic Curve Cryptography (ECC), IOTA adopts Hash signature, which is not only faster, but also greatly simplifies the whole protocol (signature & verification).  IOTA is Quantum Resistant thanks to the use of Vin G Nitsch signature. For each transaction, a seed private key is used to create a new private key and the address is secured with a Hash signature. Even if quantum computers are able to solve this private key through parallel computing, it will be of no significance, as theoretically it can be used for only once.
Application Novelty: Tangle is highly efficient, considering the absence of mining and ledger-updating in IOTA and the low computational load needed to confirm only two transactions.  Also, micro payment is made possible by zero service fees.  This technical solution is well received by industrial enterprises dealing in connected equipment and enjoys a bright prospect in the IoT sector.
Technical Openness: IOTA's code is completely open-sourced at https://github.com/iotaledger;
Technical Maturity: Distinct from most DLT projects, IOTA chooses a technically sharp DLT that has already has several use cases .  Leading enterprises across the world, large, medium, or small-sized, are using IOTA and other blockchain technologies to advance their digital transformation, particularly in Germany.  Various German firms have adopted IOTA to Mobility, Energy Supply, and Data Security, etc.  Related details can be found at: https://www.winheller.com/fileadmin/redaktion/pressemitteilungen/en/iota-foundation-winheller.pdf
Technical Novelty: IOTA involves no blocks or chains, neither is it based on the computation intensive mining or the kind of consensus mechanism such as proof of stake or PBFT.  Hinging on DAG, it confirms a transaction via whole-network verification to avoid balance attacks, network forking and parasite network, etc. Theoretically, the larger the network, the stronger it is.
The formal network is already launched into operation. However, since it is still too small to resist attacks, the Coordinator tool has been introduced to send signals on transaction confirmation.  So, its goal of decentralization still has some way to go.
Flash Channel and MAM (Masked Authenticated Messaging) make up the modularized IOTA.  These two modules will be important to many teams in their future efforts to exploit applications and start businesses.  Flash channel is similar to the lightening network for Bitcoin and Raiden network for Ethereum, plus it's formal network is already in operation.  MAM is the mask code verification signal, the most crucial element for IoT data application.
http://www.iotachina.com/shunshimianfeishandiantongdao.html
http://www.iotachina.com/shandiantongdaodejingsaiyuyixieshujutongji.html
http://www.iotachina.com/yanmashouquanxiaoximasked-authenticated-messagingjieshao.html
http://www.iotachina.com/kaniota-yanmarenzhengxiaoxizaijiaotonglingyudeyingyong.html
Technology Community: The IOTA Foundation currently has over 20 development personnel, with around 10 of them possessing the right to commit code on Github. The address is https://github.com/orgs/iotaledger/people. It's Slack devanswers channel has over 30,000 members.
IOTA has many sub-projects, but not all of them submit frequent verification requests. At present, only Android wallets make such requests frequently, which are sent over 10 times each week.  IOTA has developed its own wallets to be used in transactions, which consist of the light wallet and node wallet. For other sub-projects, frequent requests occurred one month ago.
There are numerous third-party technology players.  It's estimated that within the community, at least 100 developers and entrepreneurs are working on the technology infrastructure.  With contributions from the community and enterprises, several varieties of wallets are available, such as the UCL wallet available in Android, IOS, and desktop versions. Tangle browsers and Tangle display also come in different versions from eight teams, with iotasear.ch, thetangle.org, and iota.dance being the most popular ones.  In addition, there is the privacy module development team, the token issuance module project peaq.io based on layer-two protocol, and carrort IOTA, etc.
Judging from it's coordinated development within the community, frequency of code update, classified management, and application adoptions, IOTA has a well-operating system for the management of technical development and quality control.
Programmability: 1) IOTA smart contract is still under development; 2) Virtual machine is not available. IoT Application development currently proceeds via API tools, such as JS, JAVA, GO, RUBY, and python;
Technical Governance Mechanism: Consensus-based governance mechanism is temporarily unavailable.  Decisions are currently made by the IOTA Foundation, and the community is still exploring a governance model for its technical development;
Identity Mechanism: The identity authentication mechanism is currently unavailable, which needs to be improved for different scenarios;
Privacy Mechanism: Currently, IOTA does not have the anonymity (zero-knowledge proof) mechanism in the Tangle network.  However, some developers are working  on privacy-based transactions and have published related research papers.  In the IOTA beta-network, modules are also deployed for privacy-based transactions.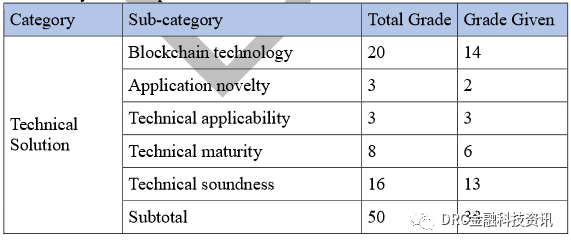 V  Economic Mechanism
IOTA's token is MIOTA;
Total token amount: IOTA has a total supply amount of (3 ** 33 – 1)/2, or 2779530283277761 tokens;
The amount of IOTA tokens is fixed.  They are created via the initiation of transactions, and require no mining;
Exchanges: Bitfinex, Binance, Coinone, OKEx, CoinFalcon.
IOTA completed its ICO (Initial Coin Offering) in November, 2015, at bitcointalk.  All 100% of tokens were issued, with none kept by the developers/founders. The crowd sale, proceeding via BTC and NXT, was equivalent to 1337 BTCs.  Since no tokens were kept by the developer/founder, the community decided to sustain the development of this project by taking donations and registered the non-profit "IOTA Foundation" in Germany.  As of now, this Foundation has received donated tokens equaling 5% of tokens held in the community.
IOTA's Economic Mechanism: Users serve each other for free: one for all and all for one.  All IOTA nodes rely on and cover various roles and applications within its ecosystem.
Token Liquidity: According to coinmarketcap, as of December 19, 2017, IOTA tokens are worth 11,120,733,890 USD, equivalent to 590,842 BTC, the sixth largest globally by market capitalization.

VI  References
IOTA Chinese materials – www.iotachina.com https://forum.iota.org/c/chinese
IOTA website: – www.iota.org
IOTA blog – https://blog.iota.org/
IOTA Manual – http://learn.iota.org/tutorials www.iotasupport.com
IOTA Wallet Manual – http://www.iotasupport.com/walletknowledgebase.shtml
IOTA FAQs – http://learn.iota.org/faqs
IOTA Forum – https://forum.iota.org/
IOTA Slack Invitation – http://slack.iota.org/
IOTA Software/GitHub – http://github.com/iotaledger
Introduction about the Foundation:
https://www.winheller.com/en/news/press-releases/veranstaltung/iota-foundation.html
https://t.co/YOTkvpj00J
【All】
The DRC team aspires to build a decentralized globalplatform for the provision of professional services such as industry research,due diligence, project rating, information disclosure, risk monitoring, andautomated audit, etc. The DRC community is developing under the directleadership of Ms. Yang Lin, founder of the DRC project and former partner of EYin financial transformation and innovation. We sincerely invite blockchain enthusiaststo join us and together push the blockchain sector toward healthy and sounddevelopment.